1. Where Are Your Jerseys Made? WildWear America is proudly designed and manufactured right here in the good ol US of A! Central Illinois, specifically. We believe in keeping business here in this country to support our economy and offer jobs to people here in the USA.
2. What Kind of Materials Do You Use? We use a proprietary blend of several polyester fabrics, to offer the softest most breathable jerseys, and warm fleece hoodies. Our fabrics are rated UV50+ for sun protection. These are seriously the MOST comfortable jerseys you will ever wear. Seriously. They are THAT SOFT.
3. How Can My Team Place An Order? Please contact us using our contact form HERE, and one of our WildWear team members will reach out to you.
https://wildwearamerica.com/contact/
4. How Do The Jerseys Fit? Please see our sizing guide below. Generally they fit true to size, with a little extra width to the jersey so they aren't skin tight. Please compare a shirt that fits you well, to this size chart to determine the correct jersey size to order.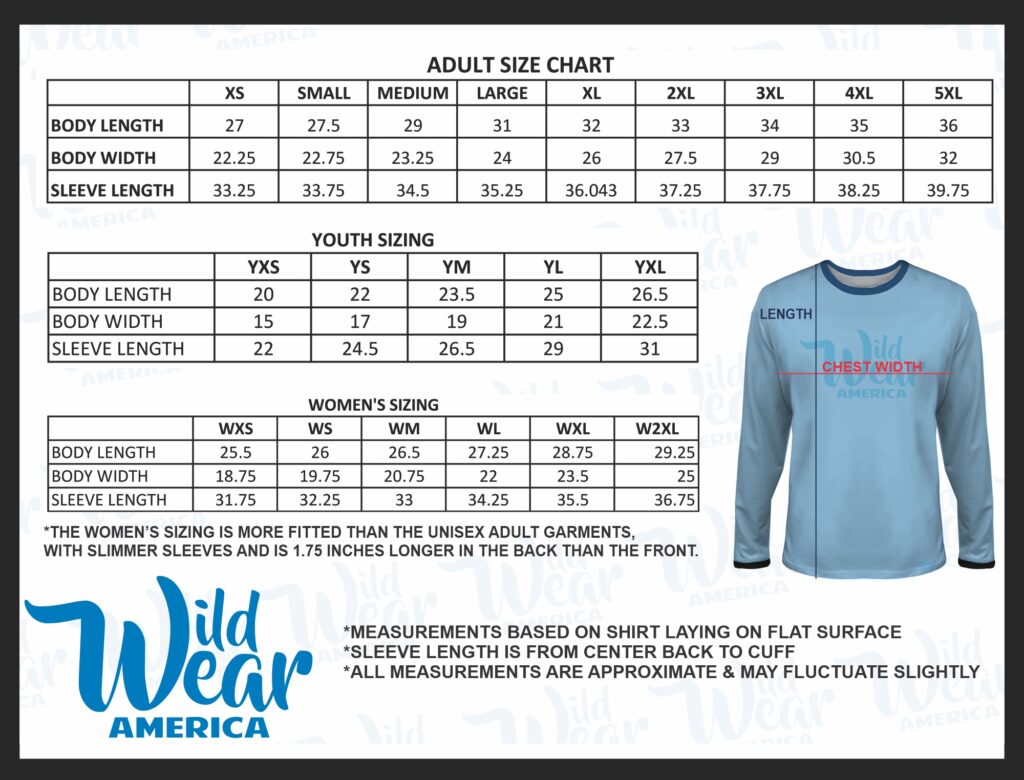 5. Can I Choose From a Stock Design? We are proud and excited to offer free custom designs to our team orders. Eventually we will add stock designs as a jumping off point, however we think it's best to make something unique for your team. No cookie cutter jerseys in this corner!
6. Can I Place An Order For 1 or 2 shirts? Sure thing! We'd be happy to make your jersey. Here's more info on placing a non-team order:
https://wildwearamerica.com/individualorder/
7. Does WildWear Charge Design Fees? Generally, no! We are proud to offer free custom design to our team orders. We work hard to make your supplied logos useable as is, and it is very rare that we would ever need to charge design time to make your logos work. Not to many companies around offer that!
8. SPONSOR LOGOS: What Type Of Logo Files Should I Send In? Vector files are ALWAYS preferred! They are easiest to work with and yield the best printing results. We understand that sometimes small companies and local businesses don't have vector files. In this case, please request a non-blurry hi resolution logo file: preferably with no background. Send us what you have, and we can take a look and let you know if they will work.
9. How Can I Contact WildWear? Email correspondence it the quickest and most efficient way to contact us. If you'd like to chat on the phone, leave your number and we can certainly give you a call!
CONTACT US